Thank you for supporting Saint Luke University Parish and our ministries!
On-Line Giving: Set up either regular occurring contributions, a one time only or for special (even one-time) occasions. Our online giving portal is quick, easy, and most importantly, secure. Set-up from anything to Sunday, Building Fund, Faith Formation classes, Scrip, and more; or make a one time donation.
Text Giving: Fast, easy, safe. You are sitting in the Pew and you get that 'OH NO' feeling. You forgot your envelope or money, or there is a special collection, a fundraiser items you forgot were for sale this weekend.
No worries we have you covered. Get those cell phones out and text your donation. It works much like On-line Giving, but with the ease of text. Type in the number 616-552-4727, put your amount, where you want your contribution to go, send, and done. or there is a sale you forgot and those yummy treats are saying 'buy me'.It's that easy. Set-up today.
If you would like more information as to how you can support us financially or want to direct your donation to a specific area (building fund, campus programming, etc.) please contact Sue Sandberg, our bookkeeper.
SCRIP offers a variety of gift cards that can be used to purchase food, gas, home goods, as well as special items to be given as gifts or the gift card itself (birthdays, holidays, etc.). You purchase and use the card at full value and St. Luke' receives a rebate (usually 2-5%, but sometimes higher!). You can purchase them after Mass or online. For more information on how to, getting started, ordering, contacting our Scrip coordinator, and other information Click Here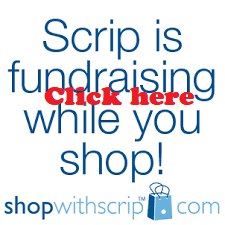 Have your account already set-up?
Need that gift card now?
Check your balance, account, etc.
Then click on the above link.