Hello Faith Formation Families!
Kristen Zacek, Faith Formation Director.
For any questions or needs, please click the link
Email Kristen
Registration for Faith Formation classes are closed. Please contact Kristen for any questions.


Updates to Faith Formation
We are moving toward a model of religious education called "Family Formation." The Catechism of the Catholic Church says, "Parents are the principal and first educators of their children" (1653). In order to better equip and support parents to transmit the faith to their children, we will begin forming the whole family together. Family Formation equips parents to pass on a well-formed Catholic Faith as they fulfill their role as the primary educators of their children. Children from Kindergarten through seventh grade, and their parents, meet at church for a teaching once per month. This year, that will be every second Wednesday of the month from 6:00 – 8:00PM. After collecting results from the parent survey put out at the beginning of August, Wednesday and Sunday evenings were the best times for most families.
At these meetings, parents are provided with weekly home lessons (requiring approximately one hour per week) to instruct their children until the next gathering. Parents will also receive formation in the topic of the month from the St. Luke's Pastor / staff or outside speakers. The Family Formation program is driven by Scripture, is doctrinally sound, references the Catechism of the Catholic Church, and has been given the Imprimatur of Archbishop Flynn. All K-7 Home and Classroom Lessons have been found to be in conformity with the Catechism of the Catholic Church by the Subcommittee on the Catechism, United States Conference of Catholic Bishops.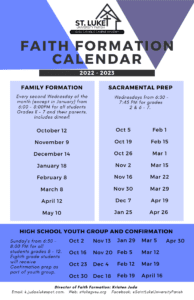 Parents who participate in the program as Catechists can elect to have their fees waived. If you have any questions or need to make different payment arrangements, please contact Kristen Juda for assistance.
SCRIP – Families can also help support the parish and faith formation programming by participating in the parish Scrip Program. By choosing to participate in the Scrip Program you purchase your everyday expenses at normal value, without any additional cost to you. The church then receives a percentage of your purchase from those retailers.
Other Fees – Occasionally other fees for transportation, special materials, and retreats may be needed (especially in the Sacramental and Youth Ministry programs). While we often try to meet these needs through fundraising, or have generous people donate to an event, the possibility does exist of an additional fee for special instances.