Dear friends in Christ,
It is amazing how quickly summer goes here in Michigan.  Of course, thankfully the warm weather is not over yet – hopefully it will last for a good while longer, but the summer break is officially over, and students are back in school.  No doubt you have noticed that our Grand Valley students are back at Masses.  Which leads me to the point of this letter: to let you know about exciting developments in our campus ministry this year.
First, four FOCUS missionaries have come to Grand Valley to engage full-time in campus evangelization.  FOCUS (Fellowship of Catholic University Students) is a national organization which engages in campus evangelization on 138 campuses in the US.  Here in Michigan, they are also active at WMU in Kalamazoo, EMU in Ypsilanti, and Michigan Tech in Houghton.  FOCUS missionaries evangelize primarily through building relationships with students and inviting them to small group Bible studies and to Mass.  They also teach students to do the same, which is what spreading the Gospel is all about – not just something for a select few to be engaged in, but for all.
Our FOCUS team – pictured here left to right – are:
Rachel Holmes: the regional coordinator for our FOCUS team; she's based in Denver but will visit several times this year
Delano Perera: from Los Angeles; he graduated this past spring from Loyola Marymount University in LA.
Colleen Morrall: from Rockford, IL; our Team Director, she is beginning her fourth year as a FOCUS missionary and comes to us from Michigan Tech.
Ashley Wilson: from Minneapolis / St. Paul; she graduated this past spring from the College of St. Benedict in Collegeville, MN.
Colby Spence: from NE Nebraska; he graduated this past spring from Wayne State College in Wayne, NB.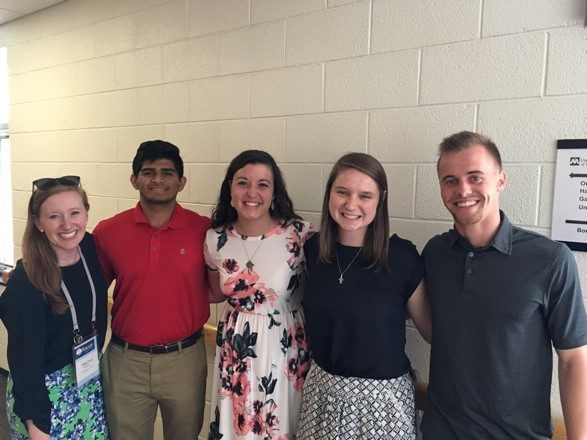 We are excited to have them on campus and at our Masses this year.  Please keep them in your prayers, that their evangelization of campus will bear much fruit.
Second, we have hired Sydney Poinsett to work as a part-time Student Communications Coordinator.  Sydney is in her junior year at Grand Valley and will be communicating with students about campus ministry events via our website, Facebook page, parish app, and email.  She will also help communicate with parents of students and Catholic alumni of Grand Valley.  Finally, she will staff our campus office for about four hours each week.  I'm confident Sydney will do a great job and will be a big help in reaching out to students.
Finally, Catholic Student Ministries – our Catholic student group on campus – are now calling themselves LakerCatholic.  They will continue their Thursday Outreach Nights for students as well as Fall and Spring Retreats.  They are also going to have several service days throughout the year, including one on September 29 at the Franciscan Sisters of the Eucharist in Chicago.  These are just a few of the events and activities they have planned.
Please continue to support our students and our campus ministry, and feel free to help out with our monthly Student Dinners and other parish events throughout the year.
God bless you & your families & loved ones,
Fr. Bill
Dear friends in Christ,
I would like to give you an update on some of the projects related to our church building and grounds:
Our crucifix has arrived and will be installed on September 10.
I was hoping that our parish sign would have been installed before the students returned to Grand Valley, but it sounds like it is now set to go in the week of Labor Day.
Entrance canopy: this is still on our wish-list. It was a part of the original plan for the church building but was scrapped at some point in the planning process.  We have begun to earmark funds raised from the Event and yard sale fundraisers towards this project however.  We will also apply any overage on our CSA goal towards this fund.  Currently we have received pledges totaling approximately 95% of our assessment, so we still have about $2300 to go to reach our goal.  Once again, if we can exceed our assessment, we will apply the overage towards our canopy fund.
Thank you for your patience with these projects.  I am learning that everything takes longer than expected.
And many thanks for your continued prayers, financial support, and service for our St. Luke's parish community.  I am grateful that each one of you are members of this community of faith.
Sincerely in Christ,
Fr. Bill