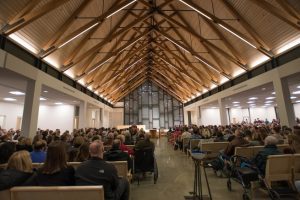 We are glad that you are visiting us. We hope that your visit to our parish is enjoyable and that you will return. We invite you to become part of the ongoing life and mission of St. Luke University Parish by becoming an active member. We hope that the information on our website assists you in becoming a part of/staying current with our St. Luke/Catholic Campus Ministry family.
To become a registered parishioner or update your information:

PARISH REGISTRATION FORM to become a parishioner at St. Luke University Parish.
Update email Kim through Contacts or call 616-895-2247

Contribute to your parish community.
Contact our staff via email or phone.
Locate our church.
Join Us in Celebrating Our Faith
For Mass and Confession Times click here