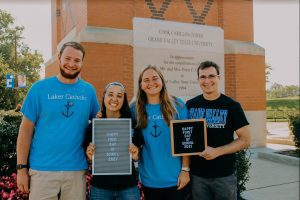 Drew Cobb, Mary Sutarik, Bethany Vogt (Team Director), Noah Giebel
FOCUS is The Fellowship of Catholic University Students. Our FOCUS missionaries are excited to be back for another year on campus! Their goal is to encounter and accompany students in their relationship through Christ through outreach, friendship, and studying scripture.
2021-2022 Team
Meet our NEW FOCUS team! We are so excited to announce our new team for this school year! Noah & Mary are of course returning to our beloved campus, but we want to send a warm welcome to our two new missionaries Bethany and Drew! Here's a little bit about them!
Bethany will be coming to us as our new team director after spending her first two years as a missionary at Ball State University in Muncie, Indiana. Bethany is from Murray, Kentucky and graduated from Western Kentucky University with a degree in civil engineering.
Drew is a first year missionary from Carmel, Indiana. He Graduated from DePauw University in Greencastle, Indiana where he studied English with a concentration in Writing with a minor in Film Studies
We are so excited to learn more about all our missionaries as the year goes on! Please continue to send & say prayers for all the missionaries currently embarking on the second phase of training!
Follow the missionaries on Instagram: @focus_gvsu