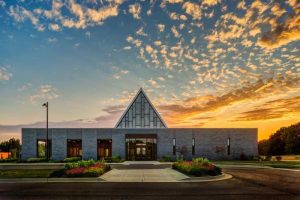 Bishop Walter Hurley asked the Paulist Fathers to establish St. Luke University Parish as a new parish of the Diocese of Grand Rapids in August 2007 to serve both the people of the Allendale area in central Ottawa County as well as the students of the Allendale campus of Grand Valley State University. Fr. Brad Schoeberle, CSP, was the founding pastor. In its early years, the parish celebrated Mass in various locations along Lake Michigan Drive, including in a school gym and a strip mall location.
Originally, the hope was to build a new church on the corner of 60th Avenue and Lake Michigan Drive in Allendale. However, after being named the Bishop of Grand Rapids in June 2013, the Most Rev. David Walkowiak determined that the original site was not the best location for a university parish (over 2 miles from campus). In February 2015 property adjacent to the south end of campus became available and the diocese signed a letter of intent to purchase. On July 31, 2015 property on the east side of 42nd Avenue, across from the Campus View Cottages, was purchased and construction of a new church followed.
The first Mass in the new church building was celebrated on Ash Wednesday, March 1, 2017. Since then, we have added more parishioners and Mass times, and the parish continues to grow. The Paulist Fathers left the parish after being reassigned by their order in June 2017, and Fr. Bill Vander Werff, a diocesan priest of Grand Rapids, was named the parish's second pastor beginning in July of that year. On July 1, 2022 Fr. Rob Mulderink became the 3rd Priest here at Saint Luke
St. Luke's is located at 10144 42nd Avenue in Georgetown Township, just south of the GVSU water tower.